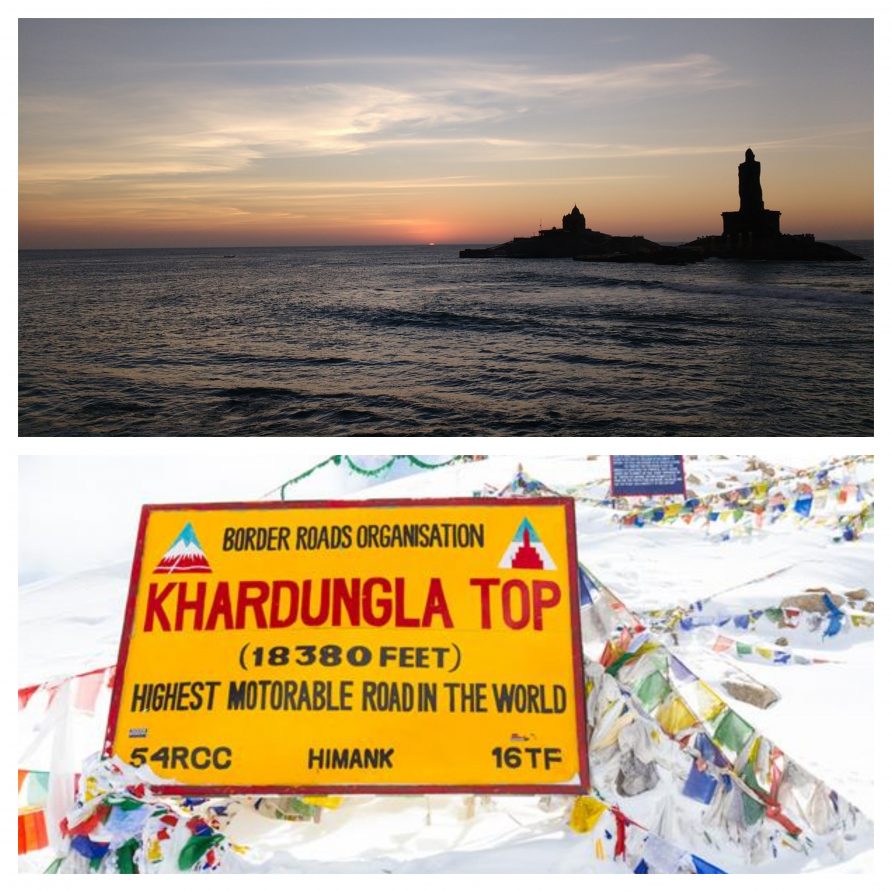 Breakaway from your stressful routine. If you are dreaming of setting out to hit the open road, look no further. This is our pick of the best road trips in India and India is one of the best road trip destinations in the world. Kanyakumari to KhardungLa is one of the best routes for Road Tripping.

Kanyakumari > Bengaluru > Hyderabad > Nagpur > Gwalior > Agra > Ambala > Manali > Khardung La (Approximately 3839 km)
Kanyakumari to Bengaluru
The driving distance between Kanyakumari and Bengaluru is 665 km. The main places covered during the journey from Kanyakumari are Tirunelveli, Dindigul, and Krishnagiri.
Top places to visit on the way to Bengaluru from Kanyakumari
Tirunelveli is one of the ancient cities, famous for various temples is a must-visit place in Tamilnadu. Top attractions to visit in Tirunelveli are Kanthimathi-Nellaiyapper Temple, Agasthiyar Falls, Kattabomman Memorial Fort, Vettuvan Koil Temple, and Manimuthar Waterfalls.
Tirunelveli is also famous for the Iruttu Kadai Halwa because the taste of the halwa will be unique they are prepared by the Wheat, Ghee, and Karuppatti. Tirunelveli Halwa is different from other South Indian Halwas because of its unique taste.
Dindigul is famous for its handmade locks, 108 Vinayar Kovil, Kotai Mariamman Temple, etc. Finally, don't miss the famous BIRIYANI. You can explore many restaurants that give you extraordinary tasty biryani @ Venu Biryani, Thalapakatti Biryani, Ponram Biryani, and Koli Nadar Kadai.
Krishnagiri is very popular for Mangoes hence it's often termed as the Mangoes Own Land. One of the most popular tourist attractions at Krishnagiri is the Shree Parshwa Padmavathi Shaktipeeth Tirth Dham. This temple is dedicated to Padmavathi Devi and this temple is one of the most revered religious shrines in the locality. So, make sure you visit and seek blessings from the presiding deity. Other popular attractions in Krishnagiri are KRP Dam, Sri Kattu Veera Anjaneya Temple, Krishnagiri Fort, Rayakottah, Venugopala Swami Temple, etc.
What is special in Bengaluru?
Bengaluru is perhaps most well-known as a Tech Hub and it's known as the Silicon Valley of India. Bangalore is also home to many start-ups and Indian tech companies. Bengaluru is also famous for its gardens, religious sites, nightlife, shopping, and architecture. The main attractions in Bengaluru are Lalbagh Botanical Garden, Bangalore Palace, ISKON Temple, Bull Temple, etc. The best shopping places in Bengaluru are Commercial Street, Brigade Road, UB City (luxury shopping), etc.

Make sure you taste the traditional Bengaluru food when you are going for Kanyakumari to Khardungla Road Trip.
Traditional DISHES you must TRY in Bengaluru (based on the reviews)