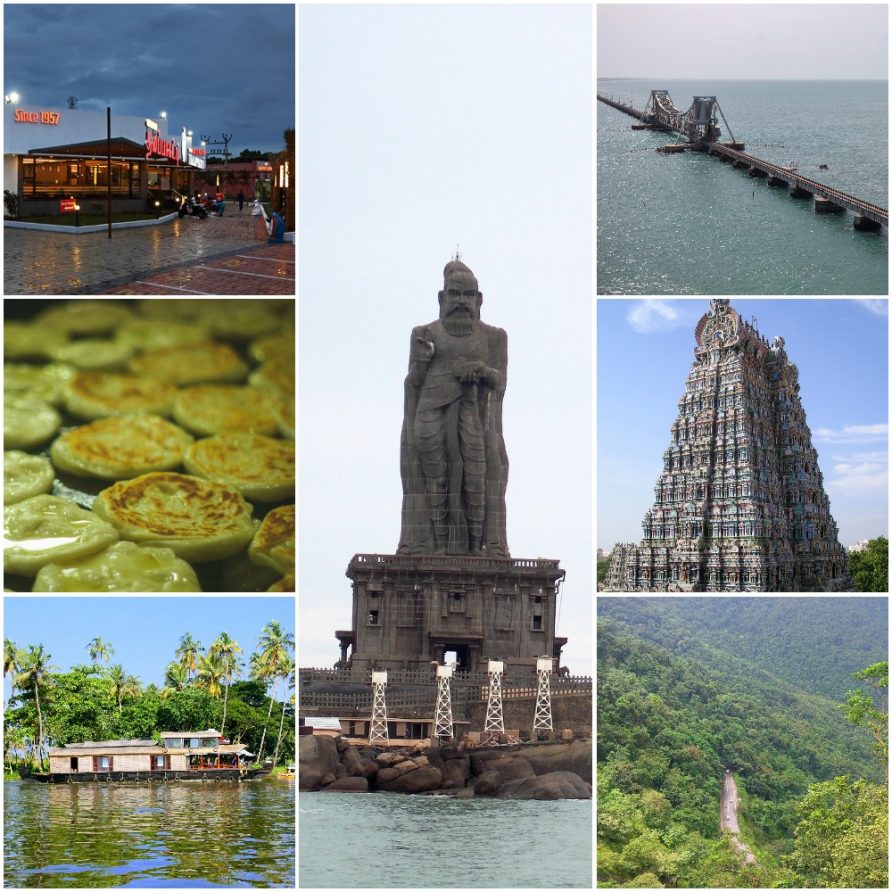 Bengaluru > Madurai > Rameswaram > Kanyakumari > Thiruvananthapuram > Alappuzha > Thrissur > Kozhikode > Vythiri > Mysore > Bengaluru
Day 1
Starting Point: Bengaluru
Destination: Madurai
Best time to visit: October to March
Route: Bengaluru > Hosur > Salem > Dindigul > Madurai
Distance: 435 km

Madurai is an ancient city by the banks of the river "Vaigai" in the state of Tamil Nadu. Madurai is popularly known as the Lotus City, due to its construction in the lotus form. The city has got historical significance spanning a thousand years. Meenakshi Amman Temple is the most famous destination in Madurai.

We packed all our essentials and left our home at 5:30 AM. It's always good to leave early to avoid the city traffic that you might encounter near Electronic City. After crossing Electronic City, we reached Attibele and there was a long queue at the toll plaza and it took us good 20 minutes to cross it. It's good to take FastTag when you are going on a road trip.

After crossing the toll, you will cross the Karnataka – Tamilnadu border and will enter Hosur. Continue to drive towards Krishnagiri. You will start seeing restaurants (A2B, Saravana Bhavan, CCD, etc.) after crossing 30 Kms from Hosur. On the way, we stopped for breakfast at A2B restaurant. After having an awesome breakfast, we continued driving towards Krishnagiri. My wife started sleeping as usual 😉.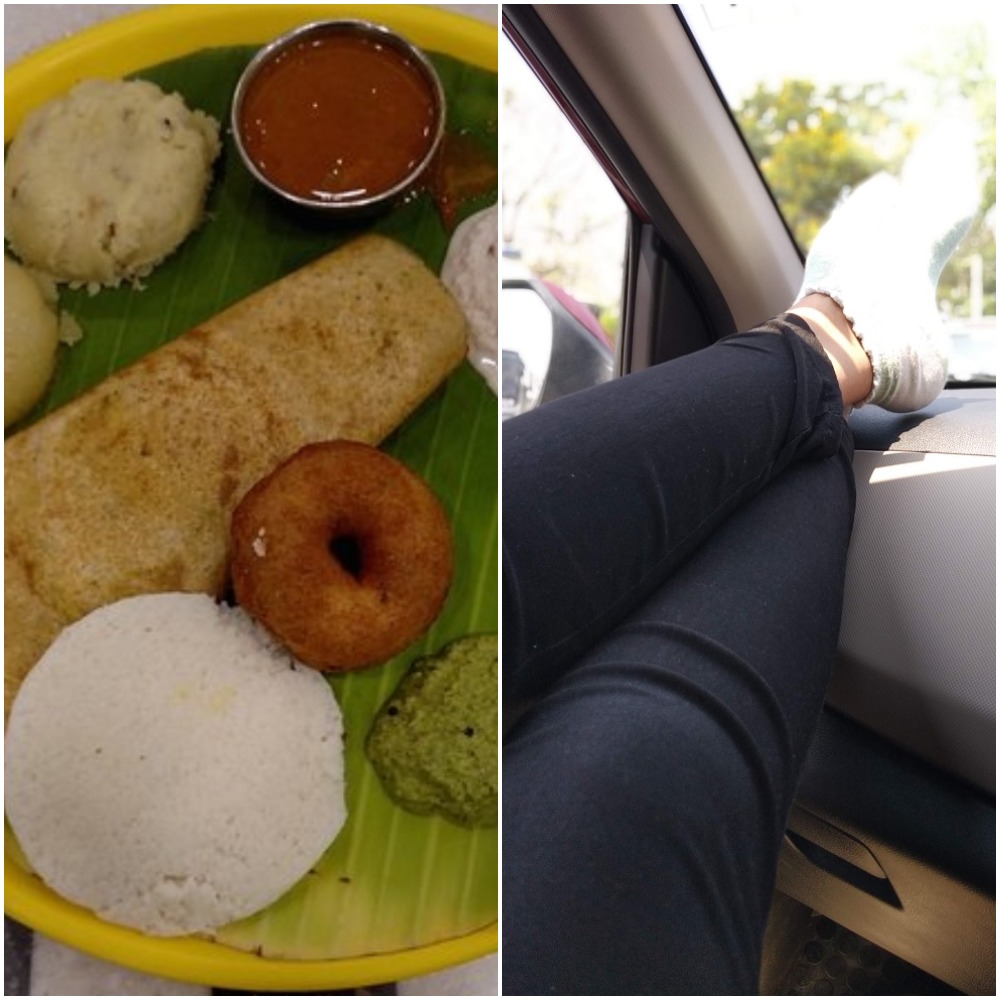 After driving around 40 minutes we reached Krishnagiri toll plaza. I don't mind paying toll charges if we have good roads. The road between Hosur and Krishnagiri was very scenic with hills surrounding both sides. I love to drive through this highway and this highway is a diver's paradise. Keep driving for another 120 Kms and you will be reaching Salem city around 10:30 AM. You will find traffic when you reach Salem and beware of trucks & containers.
From Salem, we proceed towards Dindigul for lunch. The drive was around 175 Kms. On the way a large number of educational institutions like Engineering College, Dental College, Nursing College, etc. can be noticed on both sides of the road. Car was smoothly cruising the highway and we were enjoying the beauty of nature. We reached Dindigul around 01:30 PM and we both were dam hungry. Dindigul is well-known for its world-famous biriyanis, so make sure you stop over at Thalappakatti Biryani😊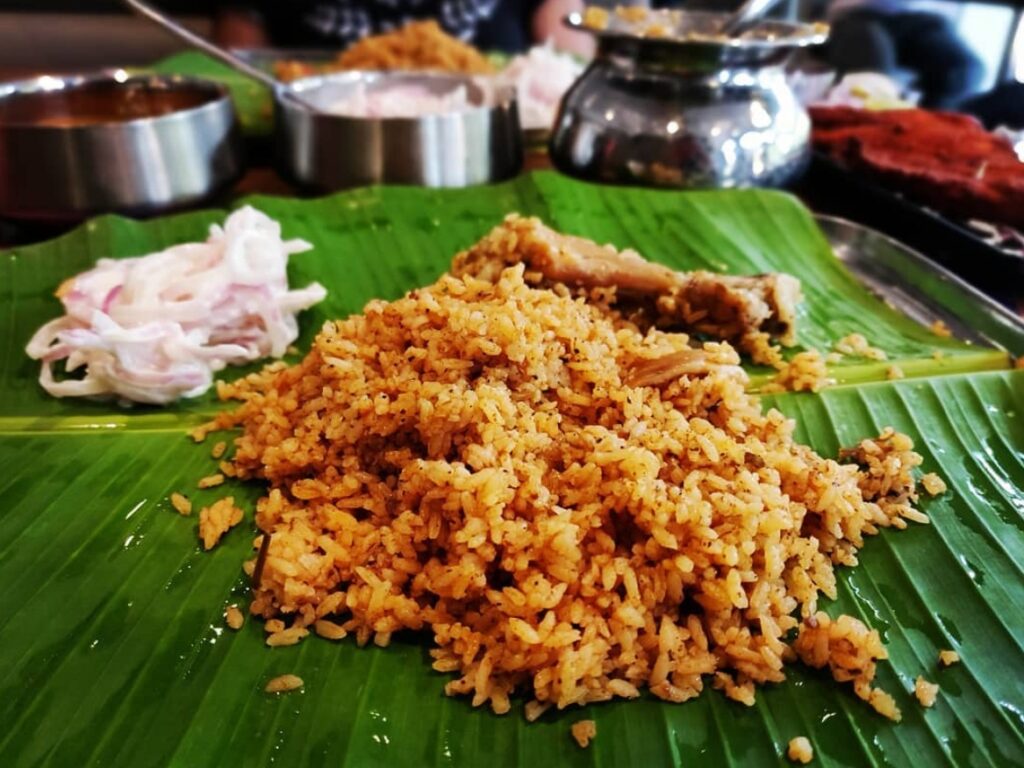 After lunch, one can proceed towards Madurai, which is around 64 km and by 04:30 PM we reached our destination. We checked in Meenakshi Sunshine Hotel and relaxed for some time.

A visit to Madurai will be incomplete without tasting the most popular things like Idli at Murugan Idli Shop, Jigarthanda and the famous fusion of Bun Parotta. Evening we had Jigarthanda from Famous Jigarthanda near Vilakathoon. This shop is always crowded in any season. Car parking is a bit hectic.

By 08:30 PM we both foodies headed towards Madurai Bun Parottai Kadai for dinner, which is near to Aavin signal, K.K Nagar Junction. They serve varieties in non-vegetarian and the specialty is Bun Parottai. We had Bun Parottai, Chicken curry, and Omelet. Even a good eater can't eat more than three Parottas because it's made in oil but it's a must have. The place is busy in late evenings as people come for dine-in & take away and the price is reasonable.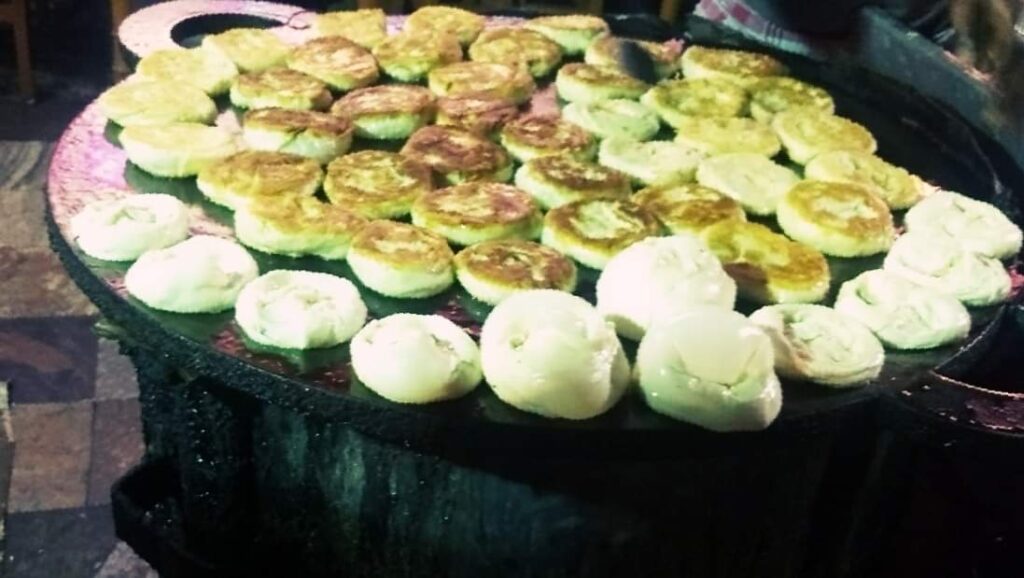 Day 2
Early morning we proceeded towards Meenakshi Amman Temple located on the Southern bank of Vaigai River, Madurai (Temple opening timings: 05:00 AM to 12:30 PM & 04:00 PM to 10:00 PM). Parking is a major problem in Madurai, however, we found a private parking place near to the temple.
A visit to this place will be incomplete if we don't take the darshan of this famous Meenakshi Amman Temple. Located in the heart of the city of Madurai, the Meenakshi-Sundareshwarar temple is dedicated to goddess Meenakshi, the consort of Lord Shiva. Getting darshan will take a lot of time, so as a traveler I recommend going for paid darshan as paid darshan itself will take more than an hour and a half at the peak season. The Thousand pillar hall is one of the amazing works in the temple that is famous for architectural brilliance.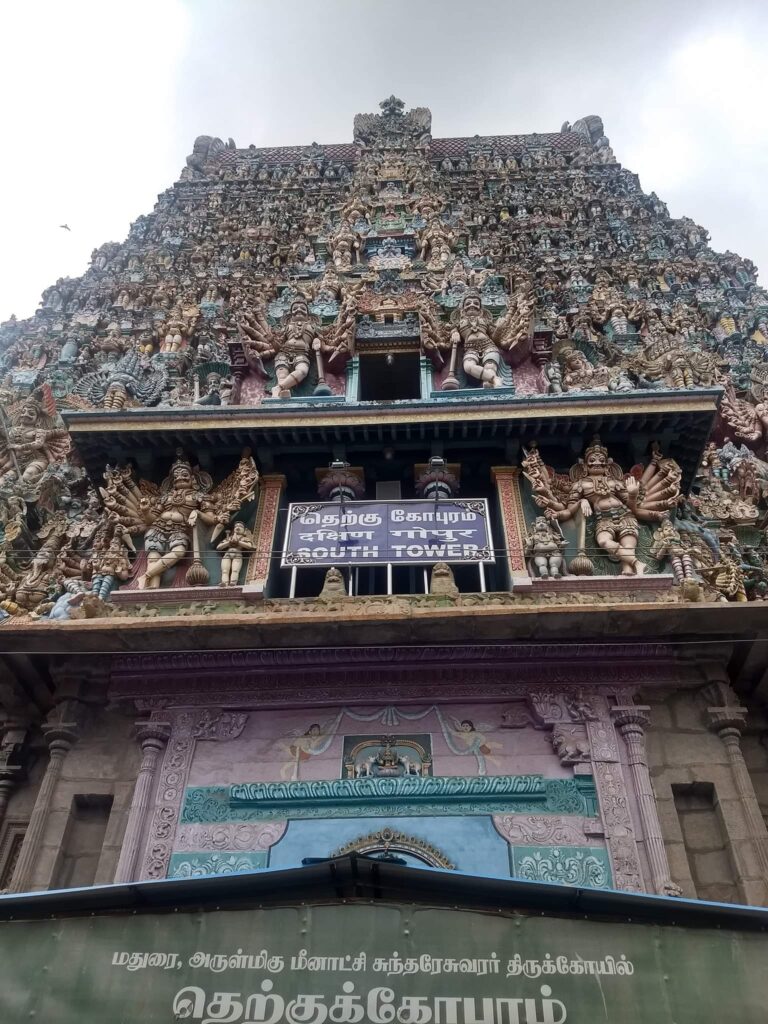 After darshan, for breakfast, we headed towards Murugan Idli Shop. Eating here is a unique experience as all food is serving in banana leaves. Idlies are served with varieties of chutneys. Ghee Podi Idli is a must-try. Don't miss Murugan Idli Shop if you are going to Madurai.
The next destination is Alagar Kovil which is 21 km away. It took around an hour to reach due to traffic. The main deity of this temple (Temple opening timings: 06:00 AM to 12:30 PM & 03:30 PM to 08:00 PM) is Lord Paramaswamy and the processional idol is Lord Alagar or Sundararajan, who is the brother of Goddess Meenakshi.
Lord Karupanaswamy is worshipped at the main entrance door (with 18 steps) which is closed. The devotees offer sandal paste to this Lord. Since no one dares to lie in front of the Lord Karupanaswamy, many people plead here to get justice. Other deities in this temple are Sri Andal, Sri Sundarsanar, Saraswathi, Kshetrabalagar, etc. This temple is one of the 108 Divya Desams or temples dedicated to Vishnu which is scattered across India and Nepal.

By 12:30 PM we left Alagar Kovil and proceed towards Thirumalai Nayakar Palace. It's around 21 Kms, so we decided to have lunch from Amma Mess which is on the way. It's the best place for non-veg lovers. Try bone-marrow omelet. We also tried rice with Ayira meen kuzhambu, a type of fish curry, and the Pallipalayam Kozhi, chicken curry for lovers of hot and spicy food 😊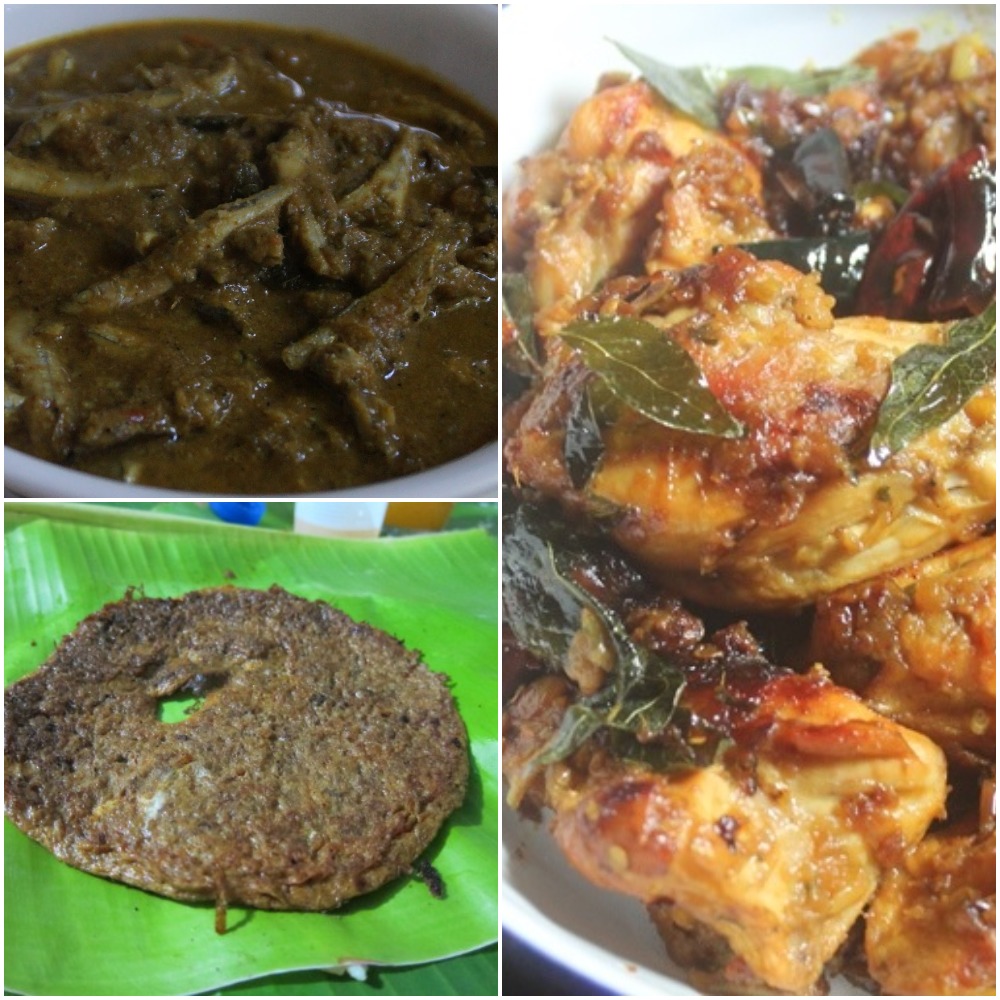 After heavy lunch, we reach Thirumalai Nayakar Palace (Timings: 09:00 AM to 05:00 PM) at around 03:00 PM. This is a huge palace built by King Thirumalai Nayakar in the 16th Century. Thirumalai Nayak Palace is a place worth admiring and exploring when on a Madurai Tour. Thirumalai Nayak, colloquially pronounced as "Nayakar" was one of the greatest of the Nayak Kings and is solely responsible for building various monumental structures in and around Madurai including this palace, also known as Nayakar Mahal. An artistic blend of Dravidian and Islamic styles, this palace is a must-visit for history lovers and those who love to explore architectural fineness of bygone eras.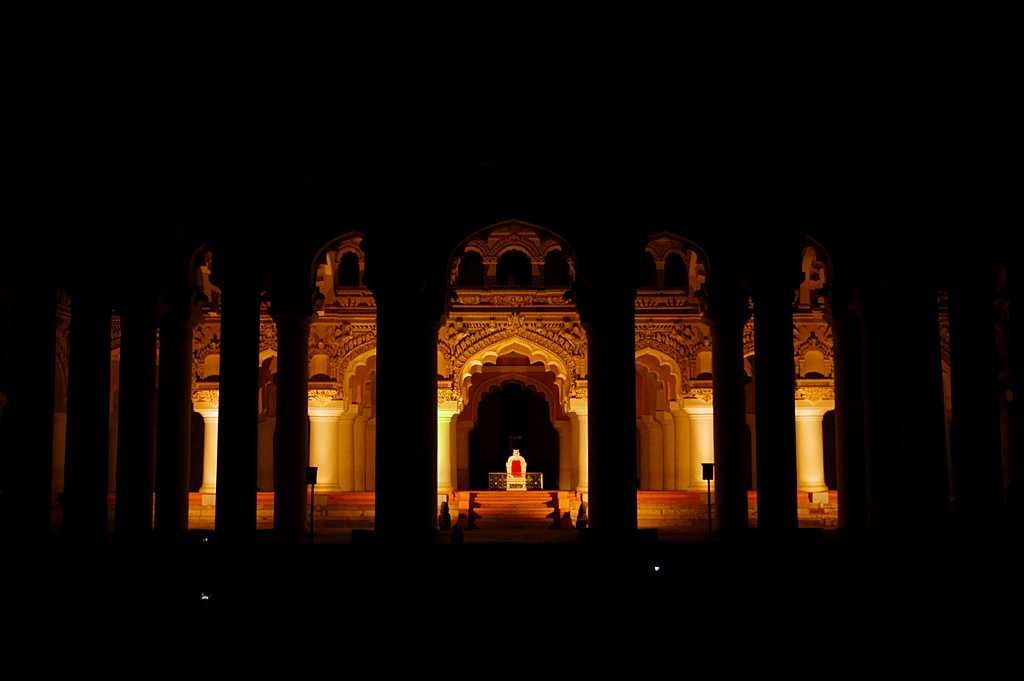 We spend around 2 hours and clicked a few pictures and reached the hotel around 05:30 PM. Evening we had dinner from a restaurant nearby and slept early.
Day 3
Starting Point: Madurai
Destination: Rameswaram
Best time to visit: October to March
Route: Madurai > Manamadurai > Paramakudi > Rameswaram
Distance: 172 km
We started after breakfast and left Madurai around 09:30 AM. The road trip to Rameswaram was good due to Tamil Nadu's natural beauty and well-maintained roads. However, we don't see many restaurants and the good part is no tolls on the way. We cannot increase the speed much as we are passing through small villages. The road is a bit narrow in some places, though should not be a problem since the traffic is less. It's recommended to travel in the day time.

On the way, before reaching Rameswaram we stopped at Pamban Bridge and spend around 30 minutes. Pamban Bridge interfaces to Rameswaram Island with the primary land. The majestic Indian Ocean on the one side and Bay of Bengal on the other side. Parking is not allowed on the bridge, so try to click the pics fast. There is a railway track parallel to the bridge and the view is extremely beautiful. We can enjoy the view at any time from early morning to evening. We were lucky that at the exact time there was a train crossing the bridge it was an outstanding view, if possible to take this train journey.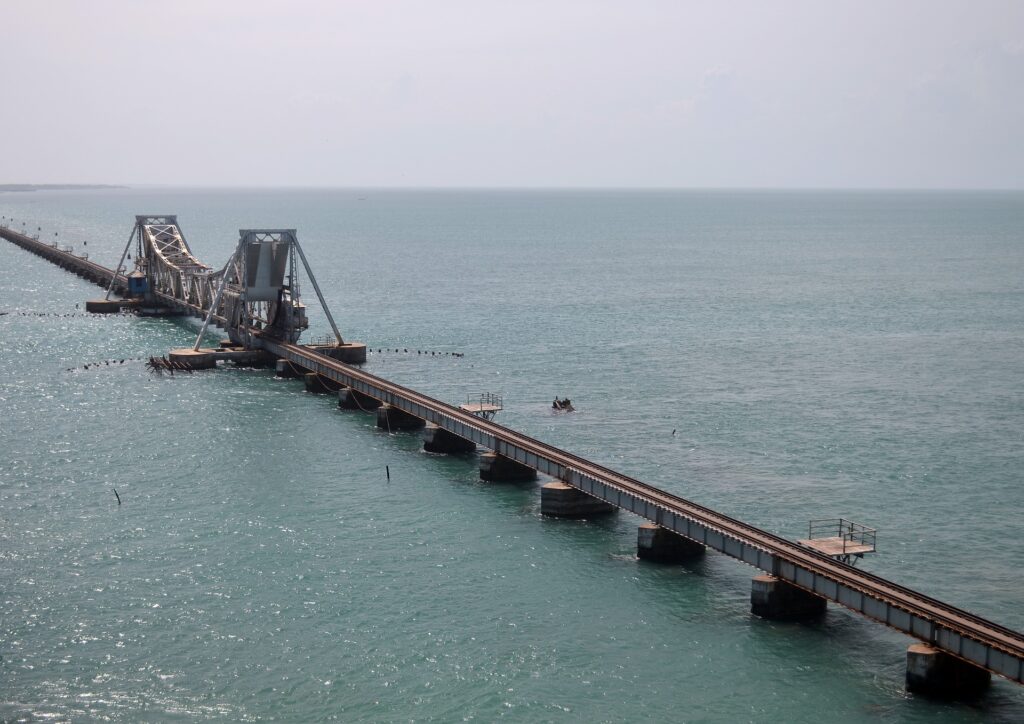 We checked in Star Palace at around 02:00 PM and relaxed for a while. Around 03:30 PM we started to Dhanushkodi. Dhanushkodi is very near to Rameswaram on the same island and the beauty is really mesmerizing and one must experience it. We can drive the entire stretch of this road connecting Rameswaram to the endpoint Dhanushkodi. It's the Southern point where you can see the meeting point of both the oceans (Indian Ocean and Bay of Bengal) from the beach.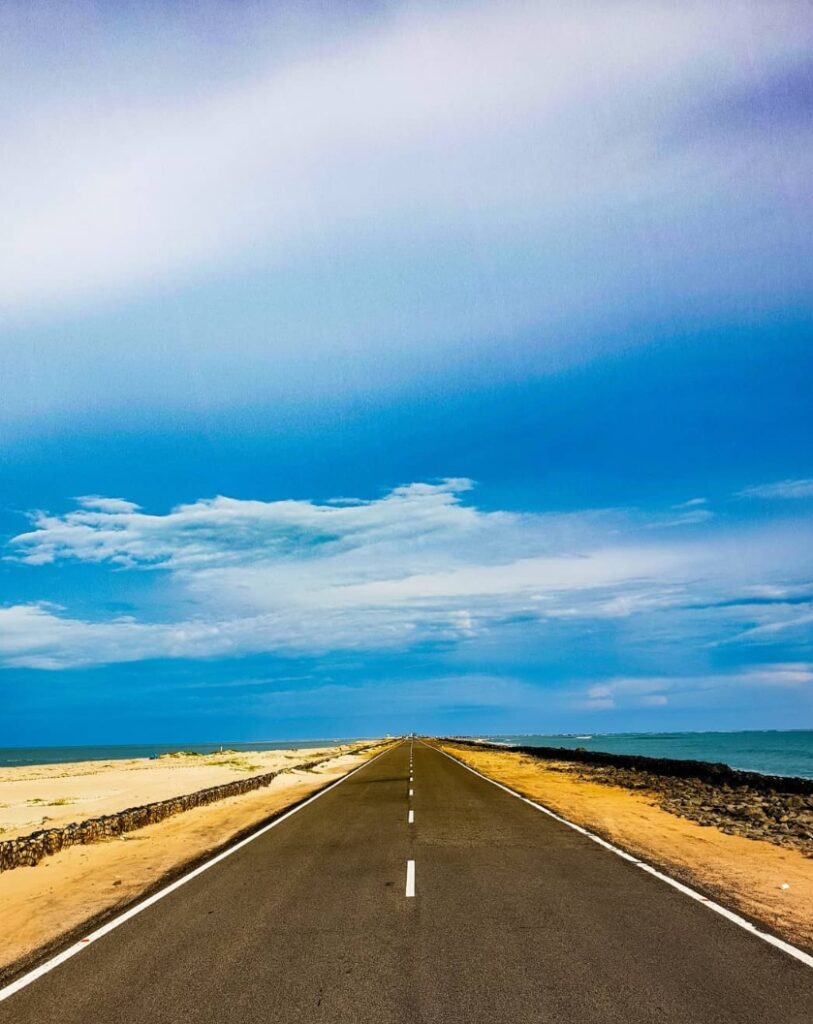 It's advisable to travel early in the morning or evening. There are no good eat outs in this place unless you don't mind eating from the roadside. The water is crystal clear; however, it's not advised to swim, and the waves are relatively violent. We left the place at 05:30 PM and reached the hotel at around 06:30 PM.
Day 4


Ramanathaswamy Temple (Temple opening timings: 05:00 AM to 01:00 PM & 03:00 PM to 09:00 PM) is one of the four prominent pilgrimage sites considered in the real Chardham Yatra. It is also one of the twelve Jyotirlinga temples.

The temple is situated near to the ocean bay, early morning we performed Dampathi Snanam. The shore is crowded but the guards are always present and warning the people not to go deep inside the water. It's said that before going to temple one must take a dip in this theertham.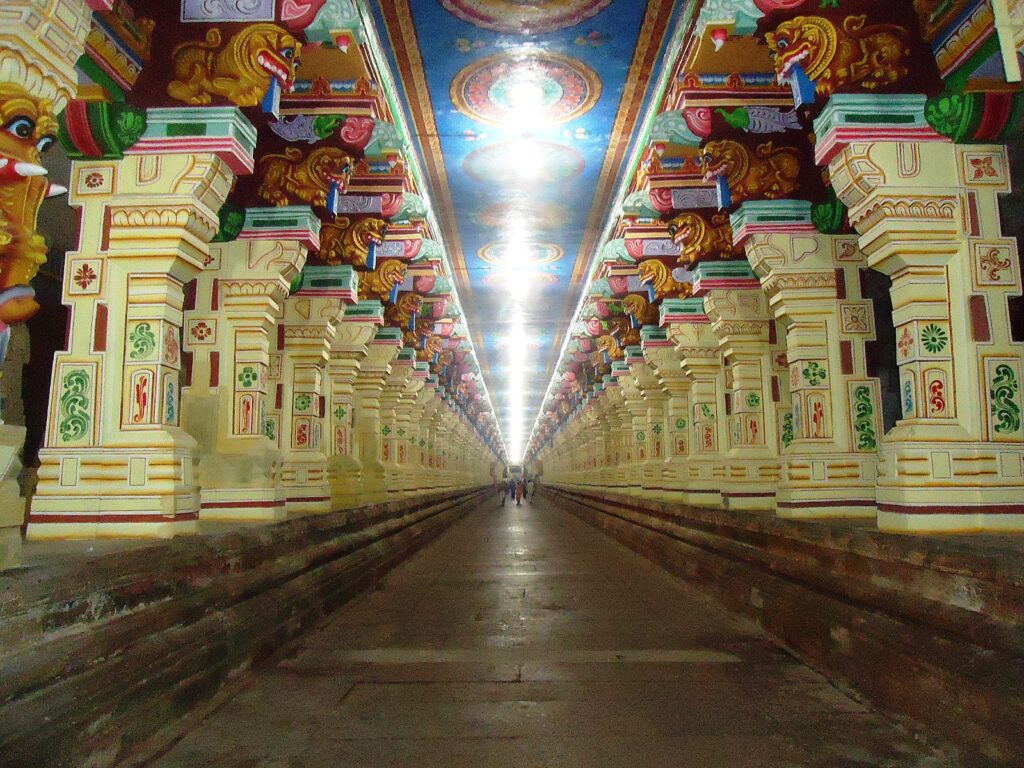 We hired a guide after the dip to have someone who can guide us to visit the temple. For the first time, it's advisable to hire a guide, please check with your hotel what are the usual charges to hire the guide so that you can bargain later. We entered the temple and the best part was the bath from 22 wells. Our guide came along with us to all the wells and ensure that we get a bucket of water from each well. We moved from one well to another, starting from Mahalakshmi, followed by Gayatri, Savitri, Saraswathi, Gavya, Gavyaksha, Nala, Neela, Sethumadhava, Gandhamadhava, Brahmahatya Vimochana, Shanku, Surya, Chandra, Chakra, Shiva, Sarva, Satyamrita, Gaya, Ganga, Yamuna and lastly Kodi which is supposedly equivalent to a dip in the Ganges. It's believed that all your sins are washed away, and your health regains after the pouring water from all these wells.

In the morning time, it was a little crowded, however, our guide managed things and we got a very good darshan and did abhishekam too. The religious importance of this temple can be seen from the popular belief according to which a visit to pilgrimage Kashi is incomplete without a visit to the Rameswaram temple. Since ancient times, devotees would walk and spend months and years on travel for visiting both the shrines.

After darshan we had breakfast from a hotel nearby, then after we proceed towards Panchamukhi Hanuman Temple (Temple opening timings: 06:00 AM to 07:00 PM), the five-faced Hanuman Temple which is situated at 2 km from Sri Ramanathaswamy Temple, where Lord Hanuman revealed his five faces. These five faces were that of Lord Hanuman, Lord Adivaraha, Lord Narashima, Lord Hayagriva and Lord Garuda. One side of the temple is exhibited with the floating stones that were used to build in the bridge called Sethu Bandanam across the sea, from Rameswaram to SriLanka.

India's most loved president APJ Abdul Kalam was from Rameswaram, the evening we visited Dr. APJ Abdul Kalam National Memorial. Former President A. P. J. Abdul Kalam House is which has now been converted into a museum is a place worth visiting. It's popularly known as Kalam house. The opening timings of Kalam House are from 8 AM to 7 PM on Weekdays. It is closed on weekends.
Day 5
Starting Point: Rameswaram
Destination: Kanyakumari
Best time to visit: October to March
Route: Rameswaram > Ramanathapuram > Kizhakari > Sikkal > Thoothukudi > Thiruchendur > Koodankula > Kanyakumari
Distance: 325 km

We started our journey at 07:00 AM to Kanyakumari, the southernmost point of peninsular India. Kanyakumari is surrounded by sea on all sides, namely the Bay of Bengal, the Arabian Sea and the Indian Ocean.

The roads are very good with less traffic and we didn't take many breaks, reached our destination by 01:30 PM. We checked in Hotel Sivamurugan and relaxed for some time it's a humble hotel but in its balcony, you can view the beautiful shore and Vivekananda rock. Later we started towards Vivekananda Rock Memorial, ferry service is available that runs between Kanyakumari to reach Vivekananda Rock Memorial. It was built in 1970 in honor of Swami Vivekananda who is said to have attained enlightenment on the rock. We spend more than an hour and a half. This is an excellent place to watch the ocean and meditate. The sun rises from the horizon next to the Vivekananda Rock Memorial and the Thiruvalluvar statue. Thiruvalluvar statue which is adjacent to Vivekananda Rock Memorial was closed due to maintenance ☹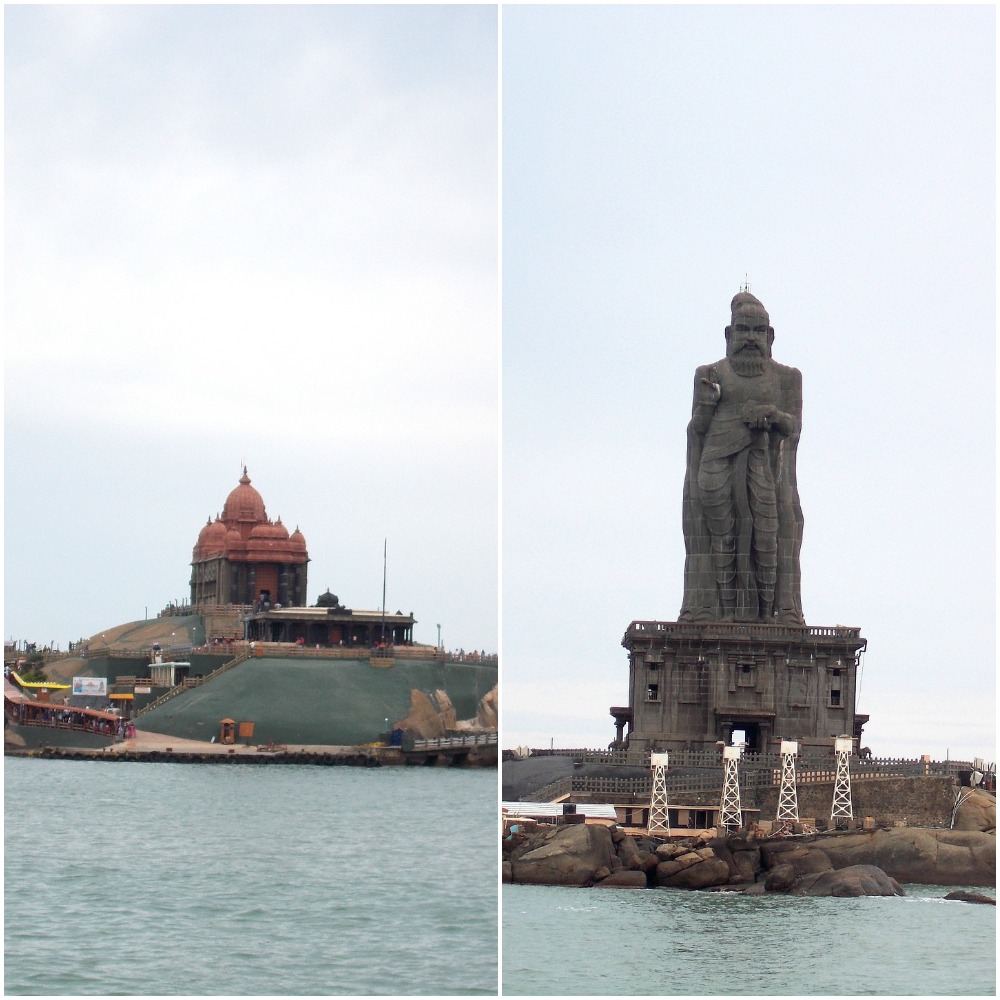 Evening we saw the sunset; the sun sets majestically with a rocky backdrop and its photographer's paradise.
Day 6
Morning around 07:00 AM we went to Kanyakumari Devi Temple and it was relatively crowded. However, we opted Paid Darshan & saw abhishekam and came back around 08:00 AM.
This is the first Durga Temple created by Sage Parasurama and considered as one among the 108 Shakthi Peethas. Goddess is also known by several other names including Devi Kumari and Kanya Devi. Devi is also worshipped as Shree Bhadrakali.

After breakfast, we headed towards Suchindram Temple (Temple opening timings: 04:30 AM to 11:30 AM & 05:00 PM to 08:30 PM) which is 14 km away. It took around 30 minutes to reach and the temple was not crowded. This temple is also known as Arulmigu Thanumaliya Perumal Temple. It's the only shrine where the Trinity (Brahma, Vishnu & Maheshwara) is worshipped on one idol. There are a lot of shrines inside the temple complex which are dedicated to different deities.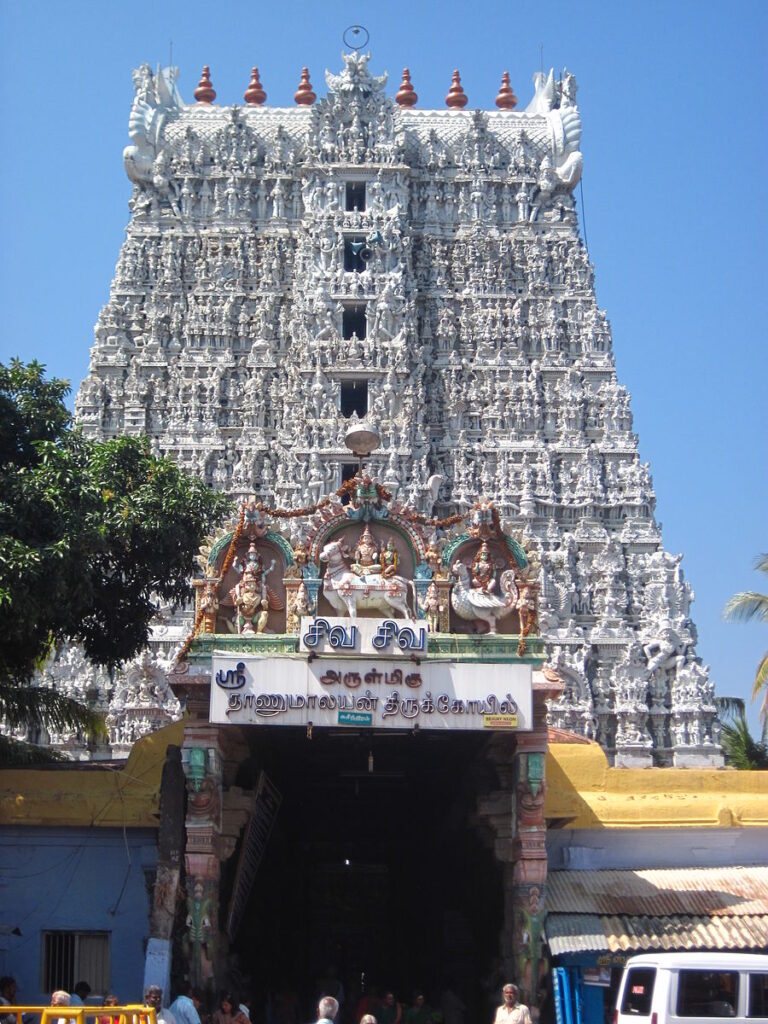 Outside the temple, there is an Anjaneya statue which is 22 feet tall and is carved in a single granite block. The 'Alankara Mandapam' of the temple is known for its 18 feet high musical pillars which were carved out of a single rock.

After Suchindram we went to Padmanabhapuram Palace which another 21 Km away. It took around 50 minutes to reach. This palace is also known as Kalkulam Palace and it's a must place for history lovers. The carvings on wood and stone that decorate the walls, ceiling and furniture are beautiful. You can hire a guide and that person will explain the stories behind different spaces within the palace. You cannot take pictures inside the palace but essentially it is an architecturally mesmerizing palace housing artifacts from the state Kerala as well as all over the world from the King's collection.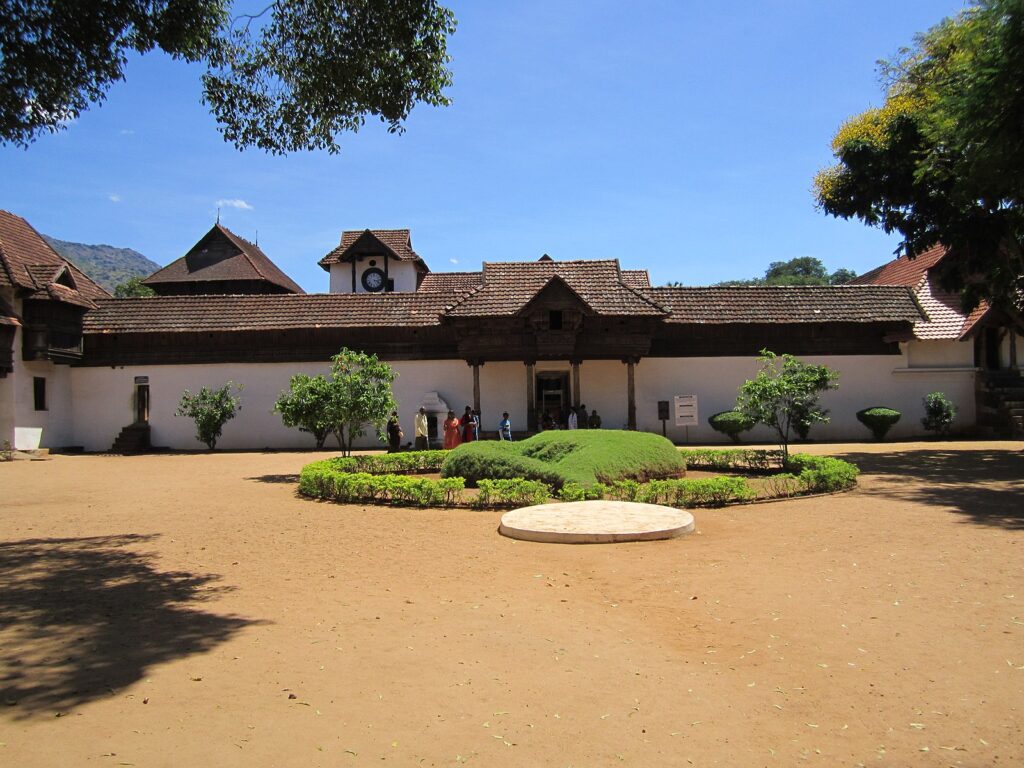 We reached the hotel around 03:30 PM and our hotel is very close to the beach, so we spend the rest of the evening at the beach and enjoyed the breeze 😊
Day 7


Starting Point: Kanyakumari
Destination: Alappuzha
Best time to visit: October to March
Route: Kanyakumari > Nagercoil > Thiruvananthapuram > Kollam > Karunagappally > Alappuzha
Distance: 215 km
Morning around 10:00 AM we started after breakfast. Kanyakumari to Alappuzha roads are not widened, so we can't drive so comfortably as before. Road widening is happening in most of the places in Tamilnadu and it affects the speed. To reach Thiruvananthapuram it took more time than we expected. We took a small halt in Thiruvananthapuram and went to the famous Pazhavangadi Ganapathy temple which is owned by the Indian Army. This temple is located near to Padmanabha Swamy temple at East Fort. The temple was closed when we reached. Many devotees come and for their wish-fulfillment break coconuts and at present the temple is under renovation.

Moderate traffic was there throughout the road and we took halts at certain places to have lunch, tea, and snacks.

It took around 6.5 hours to reach Alappuzha. Luckily, I don't have to find accommodation here; my wife house is here only 😊
Day 8
Morning around 07:00 AM, we went to Mannarasala Sree Nagaraja Temple (Temple Timings: 05.00 AM to 12.00 PM and 05:30 PM to 07:30 PM). Mannarasala Sree Nagaraja Temple is a very ancient and internationally known center of pilgrimage for the devotees of serpent gods (Nagaraja). This temple is famous for "Uruli Kamizthal" (an offering done by the childless couple). Mannarsala's heart and soul is Valia Amma (Mannarsala Amma).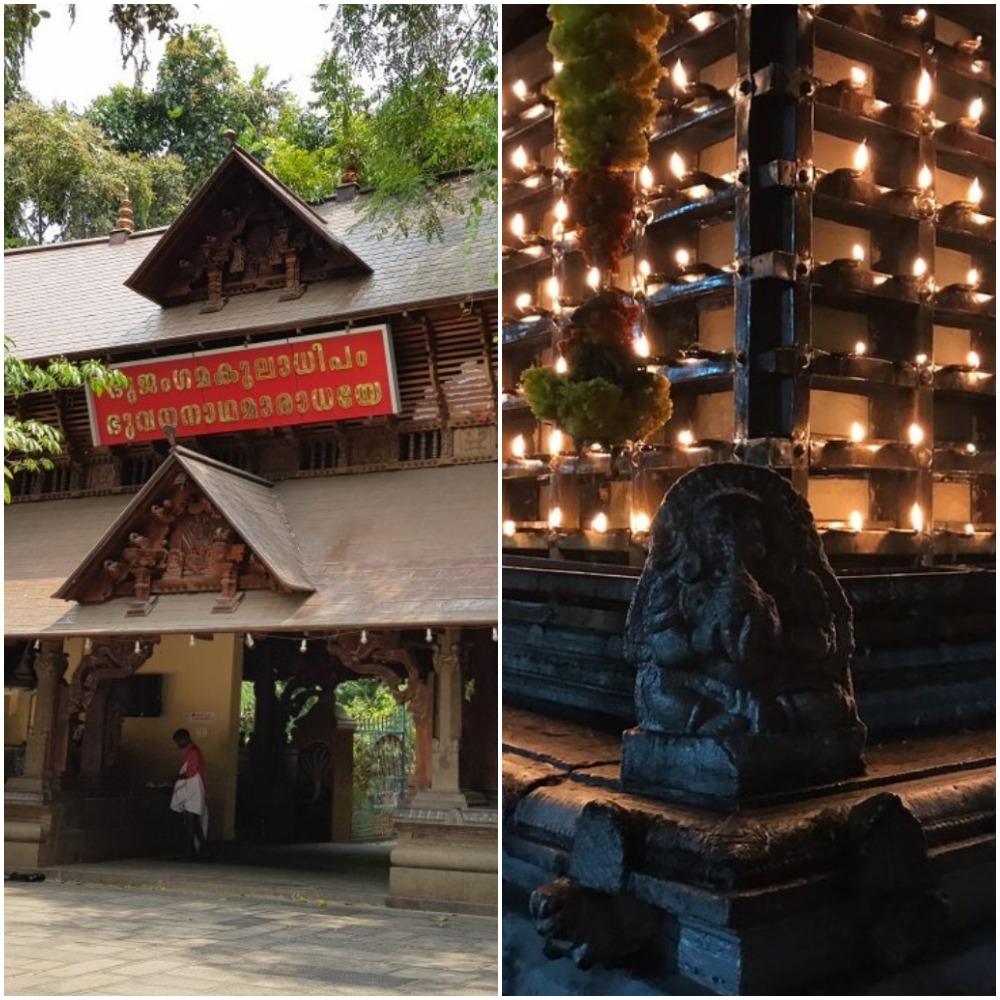 From Mannarsala we went to Ambalapuzha temple. Ambalapuzha Sri Krishna Temple (Temple Timings: 04:00 AM to 12.30 PM and 05:00 PM to 08:00 PM) and the temple was a little crowded. The idol of the deity is linked to the idol of Lord Parthasarathy's form of Vishnu. The history of this temple relates to Guruvayur Temple, Thrissur. Fearing the raid of Tipu Sultan the sacred idol of Guruvayur Temple was brought to the Ambalapuzha temple and kept it safe for 12 years. Pal Payasam (sweet) is the main offering to the deity after Nivedyam in the noon, luckily we got a dabba of it, otherwise, you have to be in the queue to get the famous Ambalapuzha Pal Payasam. We really had blessed darshan in both the temples.
Evening we went to a local toddy shop in Kuttanadu backwaters 😉

A glass of toddy and some authentic Kerala dishes like Karimeen Pollichathu, Crab Roast, Prawns Roast, Duck Roast, Fish Fry, etc are some of the main dishes to try. Karimeen Pollichathu and Duck Roast are one of the traditional delicacies of Kerala that is recommended to the majority of the tourists visiting God's Own Country. It is best to come for a weekend lunch here when all these dishes are available.
Day 9
After week travel, we were super tired, so we planned to give us a break and spend some quality time in my in-laws' house. Enjoyed the delicious homemade food, like appam and egg stew for breakfast followed by kappa and meen curry for lunch and finally Kerala parotta and mutton curry for dinner. You can't say no when you are visiting your Sasural 😊
Day 10
Starting Point: Alappuzha
Destination: Thrissur
Best time to visit: October to March
Route: Alappuzha > Kochi > Chalakudy > Thrissur
Distance: 135 Km

We started our journey to Thrissur at 11:30 AM. Thrissur is my home town, so I don't have to worry about accommodation.

We stopped at Alappuzha for lunch at Brothers Restaurant. This restaurant located in the heart of the town and they have ample parking & the service is fast. We had nadan fish curry meals and netholi fry. The food was very tasty and served very fast even though it was crowded! Must visit.

Moderate traffic was there and finally, we reached our destination at 06:30 PM.
Day 11 & Day 12
When at home you don't feel like going anywhere just lie on the sofa, mom's delicious homemade food. Just enjoy the company of your parents. Though we visited Vadakkunnathan Temple it a very famous Shiva Temple of Kerala founded by Parashurama. The world-famous Thrissur Pooram happens in the ground of Vadakkunathan temple. It is in the heart of the city. My parents go every day for the darshanam as well as for their morning walk in the premises of Vadakkunnathan Temple.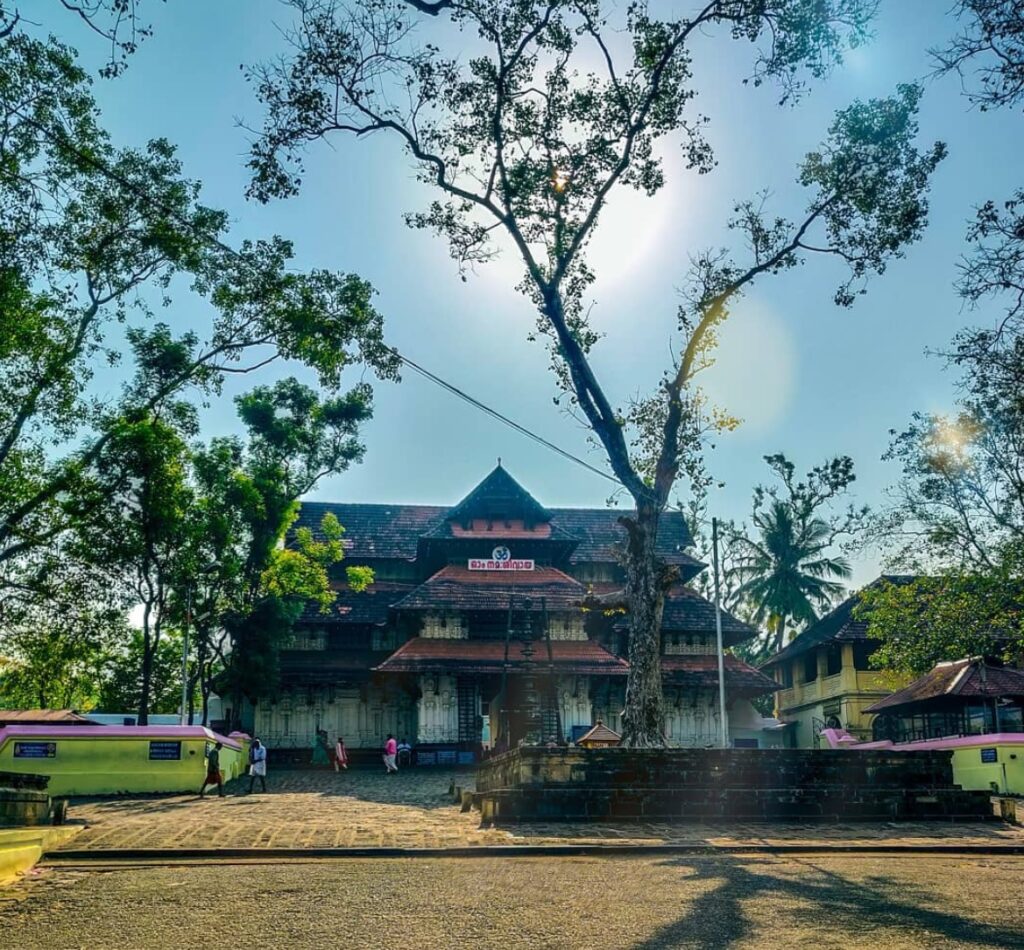 Day 13


Starting Point: Thrissur
Destination: Vythiri, Wayanad
Best time to visit: October to March
Route: Thrissur > Tirur > Kozhikode > Thamarassery > Vythiri
Distance: 175 Km
We started our journey at 07:30 AM to Vythiri, Wayanad. On the way, we had breakfast from a small tea shop and we reached Kozhikode beach around 11:30 PM. This is an excellent beach to spend our mornings and evenings. The gentle breeze at the Arabian Sea is a huge relief from the heat during the day. Beach is full filled with Oysters and few people do oyster farming too.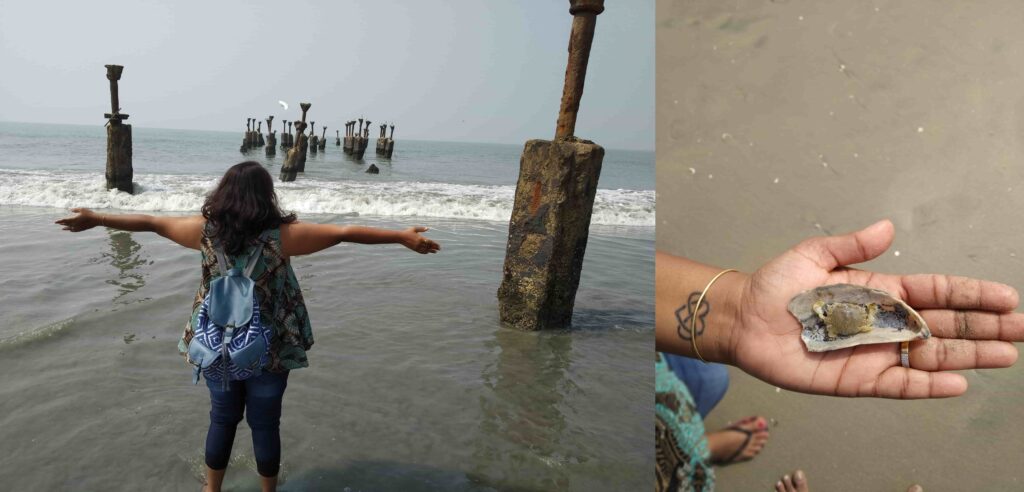 Afternoon we had our lunch from Hotel Sagar located at Mavoor Road. We had Chicken Biriyani & Meals. Along with that, we ordered Kallumakkaya it's a must-try delicacy so Kozhikode. The food was very tasty, and they served very fast.
After lunch, we headed towards Vythiri and reached our destination at 04:00 PM by crossing across the scenic Tamarassery Churam (Tamarassery Ghat). We checked in at Silent Creek Resort. "Amazing Location". A boutique resort with well-equipped rooms and a villa with a private pool set beside a natural stream and surrounded by coffee and tea plantations. It's our first new year eve after marriage and we have to celebrate in a special way, so we planned for a candlelight dinner with wine and yummy food. The temperature in Dec will be super chill make sure you take your winter wears.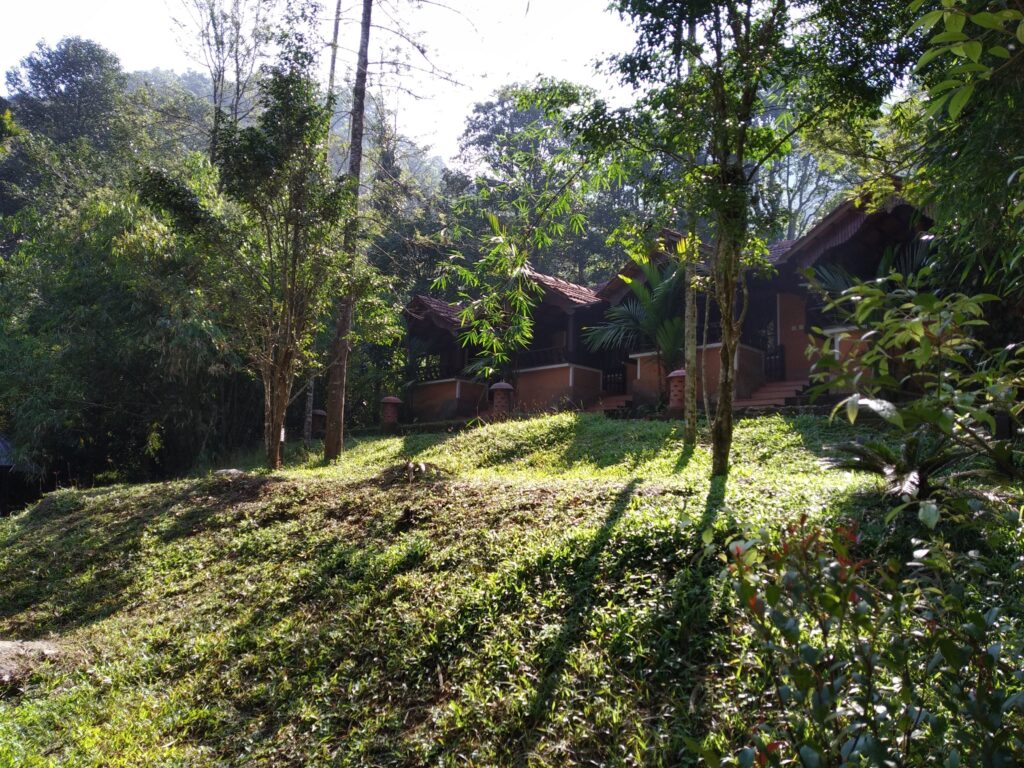 Day 14


We started our journey to Chembra Peak (Trekking Time: 07.00 AM to 01.00 PM) at 07:30 AM and it took around 1.5 hours drive to reach there. Chembra peak tallest peak is undoubtedly one of the best places in Wayanad, it's a good trek for beginners. It will take around 2 hours in the trekking of the Chembra peak. You can spot a heart-shaped lake surrounded by pure nature.
We had our lunch from a local tea estate CG Ala – The Coffee Grove restaurant, on the way back to resort. In the evening around 3 pm, we went to Banasura Sagar Dam, which impounds the Karamanathodu tributary of the Kabini River, is part of the Indian Banasura Sagar Project consisting of a dam and a canal project started in 1979. Next day early morning we were relaxing in our resort itself, is an excellent place for photographers, bird watchers, and nature lovers. This is the place for anyone who wants to escape the mechanical life and enjoy authentic nature.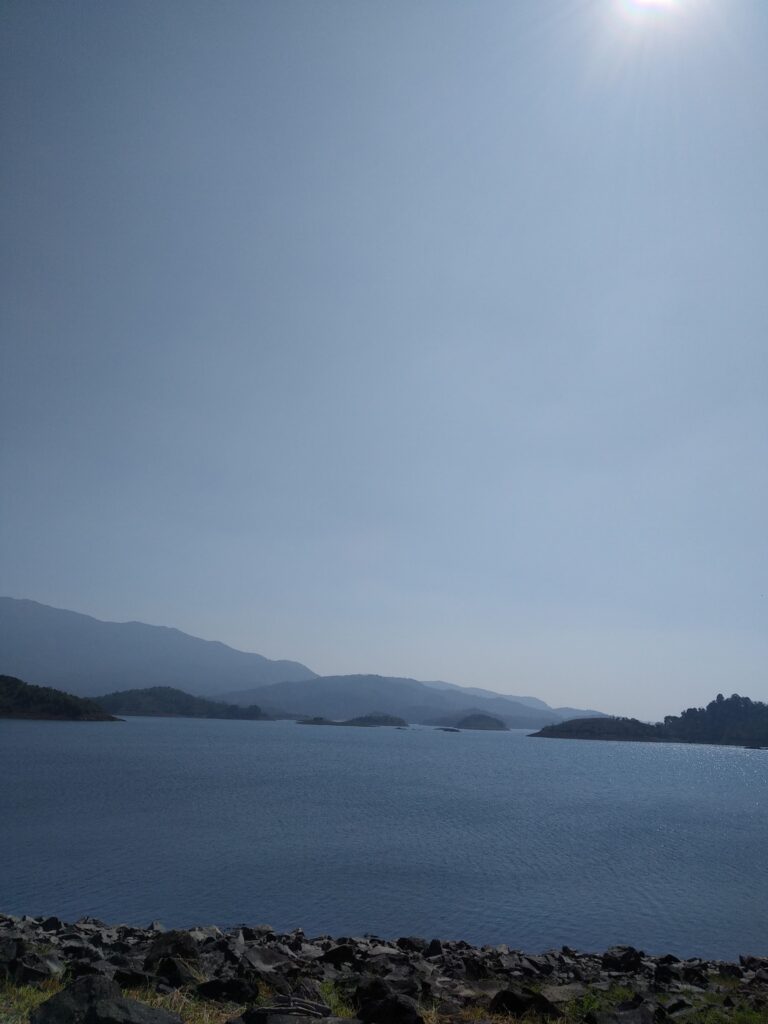 Day 15


Starting Point: Vythiri, Wayanad
Destination: Bangalore
Best time to visit: October to March
Route: Vythiri > Mananthavady > Nagarhole National Park > Mysore > Ramanagara > Bangalore
Distance: 320 Km
We started after breakfast. It took around 1 hour to reach Muthanga Wildlife Sanctuary. This sanctuary lies in between the Kabini Reserve Forest and Bandipur National Park. The Muthanga Wildlife Sanctuary is rich in its flora and fauna. Apart from the herds of elephants, it is also the natural habitat of peafowls.
We reached Mysore around 01:00 PM and had lunch from a hotel on the way. It's about 150 km drive on the state highway (SH17). Mostly the highway is 4 lanes. You can face slow-moving traffic in Bidadi stretch towards Bangalore city. Finally, it took around 7 hours to reach home.

Overall we drove around 1800 km and it was one of the memorable road trips of my bucket list with my beautiful wife😊Thanks 😊